LASSIE

"She Was
Our Dog,
Eric's and Mine"
This article was published in the June 10, 1972, issue of TV Guide. The author is not cited. It is ©1972 TV Guide, Triangle Publications. The exerpt from Lassie Come-Home is the property of the estate of Eric Knight.
---
Priscilla saw, lying there, a great black-white-and-golden-sable collie. It lay with its head across its front paws, the delicate darkness of the aristocratic head showing plainly against the snow-whiteness of the expansive ruff and apron...

For just one second, the great brown eyes of the collie turned to the girl, deep brown eyes that seemed full of brooding and sadness.
This is the official description of that semilegendary being who, in different incarnations, has haunted our airwaves for 17 years: Lassie. The written portrait of the very first Lassie of all appears in Lassie Come-Home, a lovely story of the relationship of a poor young Yorkshire boy and his collie, written by the late Eric Knight.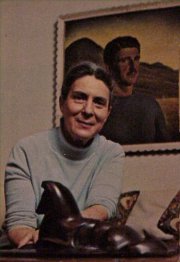 The short novel, which has sold millions of copies in 24 languages, has recently been reissued by Holt, Reinhart and Winston, Inc., at the request of Jere Knight, Eric's widow, a sweet-faced Quaker lady, a free-lance editor and writer. She is devoted to the memory of her gifted husband, whom she describes as "a proletarian writer of the '30s, who is sometimes forgotten because English critics think of him as an American writer and Americans think of him as an English writer.'"
Eric Knight was born in Yorkshire, England, in 1897 and came to the U.S. in 1912, after his father's death, when his mother remarried and settled in the U.S. He went to the Cambridge Latin School, served in World War I, became a newspaperman, a film critic for the Philadelphia Ledger, and Hollywood writer.
In 1938 Knight wrote "Lassie Come-Home" in the form of a short story for the Saturday Evening Post. It was so successful he expanded it, in 1939, into a short novel. His wife Jere recalls, "At the end of each day, when Eric was writing it, he'd always read what he'd written to his daughter Betty and to me. And we'd sit there, with tears rolling down our faces over the sad parts, saying, 'You can't do that!'"
Jere Knight remembers the first Lassie intimately—the dog herself. "She was our dog, Eric's and mine. Her real name was Toots. She was the most warm, the most loyal, the most loving, devoted dog. We had her from babyhood on, until she died of old age, at 14. The intelligence of that dog was exceptional. She had an unusual range of vocabulary—an unusual number of words she could understand, and commands she could execute. She simply would not leave where we were. If we were gone, she'd wait for us indefinitely. When Eric was in Washington, on military duty, she used to sit at the front gate of our farm, in Bucks County, Pennsylvania, and watch for him. She's buried there, on the farm."
Toots was an important part of the Knights' life, and if she waited patiently for the faraway Eric, he, too, often thought of her. During World War II, Eric Knight died in a January 1943 plane crash over Dutch Guiana, while he was en route to Africa, in the U.S. military service. In one of his last letters written before his death, he talked about his dog: "My old lady Toots is getting a bit grey, more feeble. I sorrow about her, and she sorrows for us away in the war. She's a big chunk of my life and history, with all the thousands of miles she's traveled with us, and she can't understand these war-time absences."
Eric Knight lived to see his novel, Lassie Come-Home, become a tremendous success both in America and in England, and to see it made into a movie by MGM—that famous movie from which a young Roddy McDowall and a young Liz Taylor leaped to child stardom. Jere Knight remembers that period warmly. "Eric loved the movie, and so did I." She shows us another section of a letter written by Eric, about the first movie Lassie:
"The dog is the most magnificent collie I've ever seen—in conformation, color and brilliant sense. Oh, gladly do I call him a movie star. I coveted him more than I ever did la Fontaine, la Lamour and all the other pretty stars. (They couldn't get a bitch for the part that looked right, so he's a female impersonator—and thank God he's got a long coat that covers his manhood.) Anyhow, I've been promised a son of his for the farm."
Mrs. Knight—remarried, and divorced, with a 24-year-old son—lives in a small New York apartment, studded with mementoes of her first husband and his varied interpretations of Lassie No. 1: sketches and a beautiful piece of sculpture.
But behind all the talk of the various Lassies stands Eric Knight, a brilliant writer—he was also the author of the memorable Flying Yorkshireman stories—and to those who knew him, still a vivid figure. "What was he like?" repeats Jere Knight. "There's a good description of him in the Frank Capra autobiography." She shows it to us:
"...a red-mustached American captain with a British accent; a Yorkshireman whose unruly shock of red hair seemed as full of mischief as his sharp ferretlike eyes... . For me, it was love at first sight with Eric Knight. He had all the talents that could be compressed into a single writer: wit, compassion, sensitiveness, an intriguing style; and a great, great love for human beings."
Captured in memories, sketches, modeled wood and film—this is the reality that stands behind the 17 years of Lassies that have bounded elegantly across American TV screens.
"Each time there's a new Lassie series," says Jere Knight, "I look in on it. I'm enormously interested. I have a sort of proprietary emotion. I always hope it will treat the breed with the respect it deserves. I was favorably impressed with the new syndicated series, at the beginning of the season. I'm a sucker for shows that have social consciousness. There's a beautiful family relationship there."
Read Eric Knight's letters from Hollywood in Down But Not Quite Out in Hollow-Weird
Return to the Articles page