The Movies
Lassie Come Home, 1943


Eric Knight wrote the original tale of Lassie as a short story for The Saturday Evening Post and two years later turned it into a novel. This was an immediate success and MGM acquired the rights to film it as a movie. While due to the interests of time some sequences of the book were left out, much of the movie is filmed exactly as written, down to the dialog. The story concerns an unemployed Yorkshire collier who is forced to sell his son's beloved collie to pay for rent and food. Lassie escapes her new owner and walks the length of Scotland and part of England to return to her young master, encountering kind and cruel humans, physical obstacles, and hunger. The best of the MGM movies, sentimental without being sappy, with memorable scenery (although it was filmed in California rather than in Great Britain) and performances. Stars Crisp and Bruce both became rather Lassie movie regulars, appearing in three of the seven films. A female collie was initially cast in the role of Lassie, but was too nervous to go through with some of the scenes, so, after doing an outstanding job negotiating the river scene as a stunt dog, Frank and Rudd Weatherwax's collie "Pal," a dog they had received in lieu of a debt, was cast instead. The human cast includes Nigel Bruce (Duke of Rudling), Donald Crisp (Sam Carraclough), Edmund Gwenn (Rowlie Palmer), Elsa Lanchester (Mrs. Carraclough), Roddy McDowall (Joe Carraclough), J. Pat O'Malley (Hynes), Elizabeth Taylor (Priscilla), Ben Webster (Dan'l Fadden), Dame May Whitty (Dally).
♦ This movie is available on DVD and was released on VHS video. From the novel Lassie Come-Home by Eric Knight.
Notes on Lassie Come-Home short story versus book: Many people have never read the original short story because many book collections of dog stories include a chapter or chapters from the book rather than the short story itself. It is interesting to see what Knight expanded and changed, although the changes are not major. In the short story, only two pages are devoted to Lassie's travels, although the story does identify the location where Dan and Dally (the old couple who help Lassie after she swims the Tweed River) live: they are in Durham. The bulk of the story is about how Lassie's presence and absence affect the people around her. The main difference is in two names. In the short story, Joe Carraclough is named after his father and called "Young Joe"; in the book the father's name is changed to Sam. Also, Priscilla is named Philippa in early versions of the short story; however, some versions do have her as Priscilla. She is old enough in the short story to drive her grandfather's car. The Duke is also married in the short story, while in the book he appears to be a widower.




Son of Lassie, 1944


The second of the films, although a sequel to the first, was filmed as an action adventure war movie rather than a sentimental drama. Peter Lawford plays an adult Joe Carraclough who joins the RAF in World War II, and Priscilla, the Duke's granddaughter, now played by June Lockhart, has become his love interest. The story focuses on Lassie's son Laddie (played by Lassie), who at first shows himself to be incapable of the war dog training now going on at the Duke of Rudling's kennel. Joe is stationed at an RAF base nearby, and Laddie almost nightly escapes to be with him. On one mission, on which Laddie has stowed aboard Joe's bomber, the plane is shot down behind enemy lines, and Laddie and Joe are separated, but he manages to stay one step behind her master. For an action picture, the movie is slightly too slow, and the kids who find Laddie are some of the worst child actors ever. But Laddie's faithful pursuit forms a tense plot. A plus: the majority of the film was shot in Norway and there's some great scenery. The rest of the cast includes Donald Crisp (Sam Carraclough), Nigel Bruce (Duke of Rudling), William Severn (Henrik), Leon Ames (Anton), Donald Curtis (Sergeant Eddie Brown), and Robert Lewis (Sergeant Schmidt).
♦ This movie is available on DVD and was released on VHS video.




Courage of Lassie, 1946


Young farmgirl Kathie Merrick saves a collie puppy who has been shot, names him "Bill," and trains him to be a champion shepherd dog. Girl and dog live a halcyon existence until one day, while rounding up strays, Bill is involved in an accident, is lost, and, and since he has no identification, is given to the Army and trained as a battlefield messenger dog. The collie proves invaluable to the troops he serves, but after being wounded in the line of duty, is sent home to be retrained. Like a soldier, he suffers battle fatigue, and this proves to be his undoing when he escapes from the boxcar taking him to the rehabilitation facility. He is very close to where he used to live with Kathie and unconsciously starts making his way home, but worries sheep and other livestock. When he does finally return to Kathie, she is stunned to find out he will be put on trial and may be destroyed. This is a nice kids' film up to the time "Bill" goes to war; it is rather unflinching about the hardships faced by the K9 Corps and might upset very small children. The cast includes Elizabeth Taylor (Kathie Merrick), Frank Morgan (Harry MacBain), Tom Drake (Sergeant Smitty), Selena Royle (Mrs. Merrick), Harry Davenport (Judge Payson), George Cleveland (Elderly Man), Catherine McLeod (Alice Merrick), Morris Ankrum (Farmer Crews), Mitchell Lewis (Gil Elson), and Carl "Alfalfa" Switzer (Youth).
♦ This movie is available on DVD and was released on VHS video.




Hills of Home (Master of Lassie), 1948


Edmund Gwenn, most famous for his role as Kris Kringle in Miracle on 34th Street, stars as country doctor William MacLure, who is determined to bring modern medicine to the Highland patients who remain wary of his practice. He rescues an abused collie dog who he hopes to use as a messenger, but she is terrified of water thanks to having almost drowned at the hands of a brutal previous owner. Lassie is almost an incidental character in portions of this film, referred to as "Girl" or "Lass" throughout, however she has an outstanding rescue scene with an icy bridge and also contributes to a dramatic scene on the practical use of ether. Other cast includes Donald Crisp (Drumsheugh), Tom Drake (Tammas Milton), Janet Leigh (Margit Mitchell), Rhys Williams (Mr. Milton), Reginald Owen (Hopps), and Alan Napier (Sir George).
♦ This movie is available on DVD and was released on VHS video.




The Sun Comes Up, 1948


Marjorie Kinnan Rawlings wrote this script specifically for Jeanette MacDonald and Lassie, concerning a opera star who retreats to a country town after her son is killed in a traffic accident, taking the boy's collie, whom she still blames for the accident (her son was killed trying to save the dog from getting hit by a car), with her. An orphan boy falls in love with the collie and ultimately MacDonald falls in love with him. Lassie does lots of great stunts, but the script is no great shakes and the stereotypical country folks are really silly today. Other cast includes Claude Jarman Jr (Jerry), Jeanette MacDonald (Helen Lorfield Winter), Lloyd Nolan (Thomas I. Chandler), Percy Kilbride (Mr. Willie B. Williegood), Lewis Stone (Arthur Norton), Nicholas Joy (Victor Alvord), Margaret Hamilton (Mrs. Golightly), Hope Landin (Mrs. Pope), Esther Somers (Susan, the maid), and Dwayne Hickman (Hank Winter).
♦ This movie is available on DVD and was released on VHS video.




Challenge to Lassie, 1949


An old Scottish shepherd bringing his flock to town is set on by young toughs and later dies of his injuries. His faithful collie refuses to leave his side and takes up vigil at his grave, infuriating town officials who simply consider her a collarless stray, but the townspeople are impressed by the dog's fidelity and take up a collection to buy her a collar and dog license. After a civil trial, Lassie is given leave to stay at her master's side. This is an adaptation of the legendary Greyfriars Bobby story; Bobby, a Skye terrier belonging to a night watchman named John Gray, maintained a 14-year vigil at his master's grave in the Greyfriars kirkyard in Edinburgh. There is a statue of Bobby in Edinburgh today, although the veracity of the story has often been called into question. In 1963, Disney did a film using the original story, and Donald Crisp, who played the shepherd in the Lassie version, plays the church sexton and graveyard keeper (Edmund Gwenn's role here) in the Disney version! The cast includes Geraldine Brooks (Susan Brown), Donald Crisp (Jock Gray), Ross Ford (William Traill), Edmund Gwenn (John Traill), Lumsden Hare (MacFarland), Charles Irwin (Sergeant Major), Alan Napier (Lord Provost), Kathryn Beaumont (Little Girl), and Reginald Owen (Sergeant Davie).
♦ This movie is available on DVD and was released on VHS video.




The Painted Hills, 1951


Probably the most dreadful Lassie movie ever made, which may explain why it appears to have gone out of copyright and is released by almost every inexpensive DVD label in numerous countries. An old prospector comes to town having finally discovered gold on his property; he wishes to share it with his partner in the mine, but discovers that the man has died. As a Christmas gift, he leaves his collie "Shep" to his partner's son. When he returns to the mine, a man who pretends to be helping him kills him in an effort to find the gold. For the rest of the movie, Shep tracks down the man who killed her old master while the man tries to kill Shep. Runs about 65 minutes, but seems a lot longer. The color is awful and so is the dialog. This movie is also sold under the titles Lassie's Adventures in the Gold Rush or Lassie's Christmas Adventure. Cast includes Gary Gray (Tommy Blake), Paul Kelly (Jonathan Harvey), Bruce Cowling (Lin Taylor), Ann Doran (Martha Blake), and Art Smith (Pilot Pete).
♦ This movie is available on DVD from several different distributors and was released on VHS video.
 
 
The original story that inspired this movie, "Justice in the Painted Hills" by Alexander Hull,
from "The American Magazine," July, 1923 (PDF format)
Please note that this is not a children's story, but one originally written for adults;
the boy character in the film is not part of the story and you can see how they needed
to revise the story to make it suitable for Lassie fans.




Lassie's Great Adventure, 1963


Re-edited into a theatrical feature from the five-part 1963 TV story "The Journey," which was the only story with the Martin family filmed in color, the story has Timmy and Lassie accidentally trapped in the basket of a carnival balloon that Timmy was trying to prevent from blowing away from its moorings in a freak windstorm. The wind carries the balloon northward and finally becomes entangled in towering pines in the Canadian wilderness. Timmy uses all his Boy Scout training to get them down from the tree; once on solid ground, they must survive in the wilderness together and find their way back to the nearest human settlement. What was a fine adventure on TV looks a little padded in the movies, but it's a nice chance to see the Martin family and Lassie in color—the series itself didn't go to color until 1965. Cast includes June Lockhart (Ruth), Hugh Reilly (Paul), Jon Provost (Timmy), Patrick Waltz (Pilot), Chinook Pete (Richard Kiel), Richard Simmons (Sgt. Major Hardwick), Leo Needham (Henty), Robert Howard (Sprague), and Will J. White (MacDonald).
♦ This movie has been available on videotape and is also available on DVD from several different distributors (the Goodtimes Video DVD is of particular poor quality). The Region 2 (British) DVD version is better in quality but has a different title and credit sequence and has been edited by three minutes.

Information on "The Journey" as originally broadcast.




Lassie: The New Beginning, 1978  (Made for TV)


This television film was supposed to serve as a pilot for a new Lassie series that never came to fruition. Earl Hamner Jr, creator of (The Waltons) co-wrote this screenplay that had Lassie living with the Stratton children, Samantha and her younger brother Chip, and their grandmother Ada. When Ada, knowing she is seriously ill, tries to drive the kids to "visit" their uncle Stuart, she collapses and dies in a strange town, leaving the kids and Lassie on their own. The kids are farmed out to a foster family and Lassie is put into the pound because the foster parents' landlord doesn't allow dogs. When Lassie escapes the pound, the kids set out to find their uncle themselves. This has all the elements of an interesting Lassie adventure, but just falls flat. Nobody in the cast has enough enthusiasm, although the kids try, and although the concept of having the kids' uncle not want to associate with them because he was once in love with their mother was a novelty, they ruined any pretense of seriousness by making the guy allergic to Lassie! Cast included Sally Boyden (Samantha Stratton), Shane Sinutko (Chip Stratton), Jeanette Nolan (Ada Stratton), John McIntire (Doctor Spreckles), John Reilly (Stuart Stratton), Gene Evans (Sheriff Marsh), David Wayne (Amos Rheams), Lee Bryant (Kathy McKendrick), and Jeff Harlan (Buzz McKendrick).
♦ This movie is available on Region 2 DVD.




The Magic of Lassie, 1978


This was a theatrical film that tried to resurrect Lassie as the star of a new series of films. Possibly the hokiest Lassie movie, with the oddest title. In this one, Lassie again lives with two orphaned children, Kelly, a young woman, and her elementary-school-age brother Chris, and their grandfather Clovis, a vintner in California's Napa Valley. When Grandpa won't sell his land to a rich industrialist used to getting his way, the businessman retaliates by proving Lassie is his dog (she is one of the offspring of a champion collie he once owned) and taking her away. Once again Lassie must make a long arduous journey home from Colorado Springs to Napa Valley. The first and only Lassie movie made as a musical, the songs (including "When You're Loved," which was nominated for an Academy Award) pretty much overwhelm any action there is. Some leaden acting (Allan is supposed to be in love with Kelly, but darned if you can tell just from the way they act together) also mars the film. Note: check out the creative geography: Lassie escapes from the bad guy in Colorado Springs, trots down the road, is chased by helicopter, falls over a cliff, and ends up in Zion National Park in Utah. Good trick! (The novelization actually explains that she hitched a ride on a truck between the two places, but evidently the scene was cut from the film.) Cast includes Jimmy Stewart (Clovis Mitchell), Stephanie Zimbalist (Kelly Mitchell), Michael Sharrett (Chris Mitchell), Pernell Roberts (Mr. Jamison), Lane Davies (Allan Fogerty), Mickey Rooney (Gus), Mike Mazurski (Apollo), Gene Evans (Sheriff Andrews), Alice Faye (Alice the waitress), and Robert Lussier (Mr. Finch).
♦ This movie has been available on VHS video and is available on Region 2 DVD. A novelization was done by Robert Weverka.




Lassie (Best Friends are Forever), 1994


Despite a couple of contrived coincidences and one very stereotypical villain (you can tell he's the bad guy; he uses tobacco and is a hunter), this is a nicely-paced, scenic family film that was unfortunately swallowed up by the 1994 summer blockbusters (including the critically acclaimed Black Beauty). Teenage Matt Turner's life is just getting worse: his dad is remarried and he's afraid he's forgetting his late mother, dad accepts a job out in the Virginia countryside where they have no sidewalks for skateboarding and no MTV, and in addition, enroute to their new home they pick up a big collie Matt's TV-crazy sister insists is Lassie. The collie takes an immediately liking to Matt, and is the motivation the kid needs to knock off his Walkman and help his dad start a new career raising sheep when the job he was offered falls through. Fabulous score by Basil Poledoris and some gorgeous West Virginia scenery add to a literate script and good performances. The cast includes Thomas Guiry (Matt Turner), Helen Slater (Laura Turner), Jon Tenney (Steve), Brittany Boyd (Jennifer), Richard Farnsworth (Len Collins), Michelle Williams (April), Frederic Forrest (Sam Garland), Jody Smith Strickler (Mrs. Garland), Charlie Hofheimer (Jim Garland), Clayton Barclay Jones (Josh Garland), and Rick Warner (Timid Neighbor).
♦ This movie is available on DVD and was also released on VHS. A novelization was done by Sheila Black.

Marty Shelton sent me this interesting bit of trivia: Tom Guiry appears in the WWII action film U-571, which also features Will Estes, a.k.a. Will Nipper, Will McCullough in The New Lassie.
Roger Ebert's review
Long synopsis of the movie (with commentary on Matt's shoes!)
"Lassie on the set of his movie" (cute photo)





Lassie, 2005


This lovingly photographed movie is a remake of Lassie Come Home as filmed by producer Charles Sturridge, with Ireland standing in for Scotland and England. Sturridge has taken some major liberties with the text, unlike the original 1943 film, including making Rowlie Palmer a traveling performer rather than a traveling tinker, casting a younger boy as Joe, changing several characters, and having Lassie return home at Christmas. The setting has also been changed from Depression-era to England on the brink of World War II, and includes a major subplot not in the original book, of Cilla (as Priscilla is known in this version) escaping the stuffy boarding school she's been sent to, her journey parallelling Lassie's. There is also a very silly sequence at Loch Ness, involving the "monster," and Lassie is given a little "dog buddy" in this film who leads the family to her after she collapses outside the church on Christmas Eve. This is the first movie made that has not featured a descendant of the original Lassie, Rudd Weatherwax's "Pal." It's an outstanding cast, but the subplots detract from the focus of the story, the love between Lassie and Joe.The cast includes Jonathan Mason (Joe Carraclough), John Lynch (Sam Carraclough), Samantha Morton (Sarah Carraclough), Peter O'Toole (Duke of Rudling), Hester Odgers (Cilla), Peter Dinklage (Rowlie Palmer), Steve Pemberton (Edward Hynes), Jemma Redgrave (Daisy), Celyn Jones (Snickers), Nicholas Lyndhurst (Buckles), Angela Thorne (Dr. Gull), Peter Wight (Dr. Jarrett), and Robert Hardy (Mr. Justice Murray).
♦ This movie was released on DVD in 2006. Recently it has been re-released on DVD as Lassie: A Christmas Tale.


The Radio Series in Brief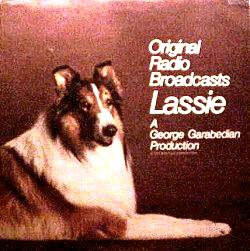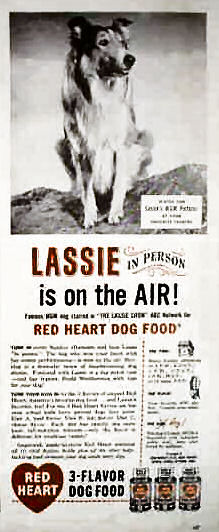 The Lassie radio series was broadcast for three years, from 1947 to 1950, first on the ABC radio network, then on NBC. The series was a 15-minute weekly anthology, with Lassie playing a different dog in different situations each week (interestingly enough, the stories occasionally did not have a happy ending; in one episode, Lassie's character dies after her young master is careless—see synopsis below). Earl Keen, animal imitator, provided whines and other dog noises while Lassie himself provided barks and growled at Rudd Weatherwax's prompts. The announcer was Charles Lyon and the writer was Hobe Donovan; the producers were Frank Terrin and Harry Stewart, and Stewart also directed. Marvin Miller and Betty Arnold had regular roles. The sponsor was Red Heart dog food and the theme song was "Coming Through the Rye."
Two episodes of the series were later released on an LP from Radiola, with the flip side being an audio version of the TV episode "The Lion."
Listen to five Lassie radio shows (.MP3 format)
Summaries of the Two Lassie Radio Shows on the LP
• Lassie plays "Jumpy," a dog accused of attacking Mrs. Evans' baby when the culprit is really a one-eyed cat which has been terrorizing a warehouse and a neighborhood. When Jumpy is picked up by the pound, Freddy, his young owner, goes to retrieve him and is able to explain to the supervisor at the pound that the dog did not attack the child. However, Jumpy has no license and Freddy has to work to earn the $2 to finance it. He earns $2 and goes to pick up Jumpy, only to find himself short a dime. The kindly supervisor, touched by Freddy's resolve, puts in the extra dime and says Freddy may owe him the ten cents. On the way home, Freddy and Jumpy see the cat attacking the baby again. Freddy manages to catch the cat in his overcoat after Jumpy corners it, and the baby's mother finally understands that it was the one-eyed cat, not the dog, that attacked her child. When he takes the captive cat to the pound, Freddy finds he'll also receive a reward of $25 offered by the warehouse owner, a sum that will be a boon to his widowed mother!
• A couple, Fred and Margaret, consults a doctor about Tommy, their disobedient son. He lies, goofs off at school, and is disrespectful. They tell the doctor that spankings don't seem to help, so the doctor thinks they should stop corporal punishment and use a system of rewards and penalties. They start their new resolve by locking up his skis (he wanted to go skiing after school), and Tommy retaliates by skipping school and going to the movies. The parents think Dr. Willard's scheme isn't working, but keep on with it. The following night Tommy tells his parents he is going ice skating, but they forbid it because the ice is thin. Tommy pretends to acquiese, but sneaks out with his dog, "Pete," to the pond. When his parents find out they are furious. At the pond, Tommy is starting to skate on thin ice and Pete barks, warning him, but Tommy keeps skating and falls through the ice. Pete is holding the boy out of the water when his parents arrive. Tommy's father pulls him from the ice, then tells his mother to get him in the car while he rescues Pete. When Tommy finally comes to, he discovers Pete has drowned rescuing him. The repentant boy, having learned a hard lesson, resolves never to lie or disobey again, and his father tells him that if Pete has given him this new lease on life, then at least he has not died in vain.

The Comic Book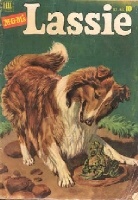 From the late 1940s through 1970, Dell Comics published a bimonthly Lassie comic to continue the adventures of MGM's canine star. Since MGM's series of Lassie movies had no running storyline (save for the second being a sequel to the first), Dell invented one for her. For a good deal of the comic's run, she lived in the Brazilian jungle, the "Matto Grosso," with her human companions Gerry and Rocky, an American couple who owned a ranch, but whose main occupation was writing about and photographing South American scenic and historic locations. Rocky, of course, was your typical stalwart American guy, blond haired and square jawed; Gerry gorgeous and dark-haired.
Untypically for the time, Gerry wasn't much of a screamer. She also wore pants a lot (a '40s rarity) and followed Rocky—and Lassie, of course—into whatever adventure they were in at the time. Also novel for a comic of the time, the story featured a native boy as a companion for Lassie and her humans, Timbu of the Taquari Indian tribe. (Was Timbu adopted or their ward? None of the comics I have tells me...) Thankfully, no attempt was made to make a Tarzan-like character out of the boy; although his English was occasionally imperfect or stilted as in someone who had grown up with it as a second language, he did not talk in "pidgen" or have funny little "native quirks." The native tribes were also treated with a respect rare in those days, which make Lassie's Brazilian saga easier to read today.
Lassie's adventures weren't confined to the Matto Grosso. Rocky and Gerry traveled all over South America for their photos, so that Lassie and Timbu had adventures in Peru, Venuzuela, and Argentina as well. On one memorable occasion the four of them flew to New York City, where Timbu discovered that the urban jungle was much more challenging that facing jaguars and alligators! All of them featured bits of knowledge for the unsuspecting reader to learn: the habits and habitats of native animals, plant life of the jungle, historical locations in South America, etc., interspersing a travelogue within Lassie's adventures.
The Brazilian years also featured exciting oil-painted covers calculated to draw a comic reader's interest: Lassie was most often shown in some dangerous situation such as standing in a bow of a boat headed for the rapids, fighting her way through a jungle storm, or leaping some large chasm in an effort to rescue her human companions.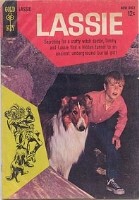 For a few issues in midseries, Lassie teamed up with Matt, another South American adventurer, but her family continued to be in South America even after 1954, when the television series began. In 1956, however, Dell decided to make Lassie's comic adventures concurrent with her televison ones, and she abruptly developed a debilitating, life-threatening allergy to a certain grass found only in the Matto Grosso. Rather than see her die, Rocky and Gerry tearfully shipped their beloved dog to "our friends the Millers who have a farm in Calverton," therefore giving the comic Lassie a different origin than the television collie.
From then on Lassie's adventures were of a tamer sort, although upon her arrival in Calverton was beset by trouble when she leaped onto the wrong pickup truck and became involved with thieves. Very often the Jeff series of comics were just a retelling of a television story, such as "Lassie's Vanity." Thus it was that the arrival of Timmy was also retold from the television story—with a twist: since Jeff was always drawn with blond hair in the comics, the artists, to keep people from confusing the two boys, portrayed Timmy with black, curly hair. It was only after Jeff left the story—presumably in the same way as his television tenure had ended—that Timmy was able to have proper blond hair.
Due to the location shift to the Calverton area, the emphasis in the stories veered away from learning about wildlife and history, and the tales became small morality plays with the boys learning a lesson about safety or friendship. The covers changed as well, from paintings to photos featuring at first Lassie alone, and then Lassie and whatever companion she had.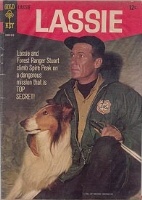 (Apparently the farm wasn't exciting enough for comics readers because in five issues Lassie and the Martins went to Africa and had adventures in the jungle!)
The comic progressed to Corey Stuart when the television changeover came until the end of the comics series itself.
The Lassie comics, like all comics of their time, featured a related tale or two within an issue. In the early issues, there would be three stories, along with a short strip about a jungle animal. By the time the farm stories were instituted, the related story would be a four-page series about a horse named Blaze and a one-page two-column short story having to do with a dog. There was usually also a black-and-white outline strip on either or both inside covers having to do with things like "Fun on the Farm." The ranger comics featured interesting tidbits about wildlife, the work of the National Park Service, or "Lassie facts" about nature, but the main stories had been cut down to two.
• A gallery of all 70 Lassie comic covers

The View Master Sets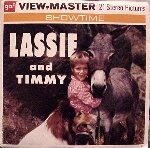 It was first Sawyer who put a new spin on the old family favorite, the stereopticon viewer (see the Jeff episode "The Gift"), and gave it new life as a children's toy. But instead of sepia or black and white cards on a wooden holder, the new version consisted of 7 pairs of color slides in a circular mount which fitted a plastic viewer with a pull-down handle which advanced the disk to its next position. Thus the "Viewmaster" was born and several generations of children grew up being able to see three dimensional slides of everything from Bible stories to their favorite TV or movies to places they might never get to travel to, from Disneyland to the Grand Canyon.
A set of three slide cards wouldn't be all you received: your favorite came in a packet with a color cover and a description of the disks on the opposite side. Inside with the disks was a 16 page booklet that followed the disks frame by frame with a recreation of the story.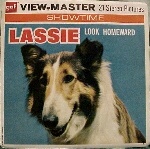 Three ViewMaster packets were devoted to Lassie between 1957 and 1967, two of them notable in that you were seeing color photos of Lassie and her companions back when the series was still done in black and white.
"Lassie and Timmy" is in fact three short "stories," one to a disk, two based loosely on charascters from the 1957 episodes "The Burro" and "The Crow." The third, about a careless hunter who almost shoots Timmy and his friends, is unfamiliar as an episode.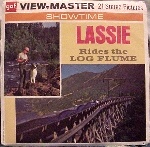 "Lassie Look Homeward" is from the 1964 three-part Corey Stuart story (in the only year the ranger episodes were done in black and white).
The third packet is "Lassie Rides the Log Flume," from the 1967 episode "Ride the Mountain." The spectacular scenery of the Columbia Gorge log flume was shown to great advantage on the stereo slides.

The "Salutes"
To Lassie, With Love, 1974, Syndicated, 60 minutes

Previous to 1974, only the Jeff and then Timmy episodes had been released for reruns; by 1974, the entire series was available for syndication. As an introduction to the complete run, Wrather Productions did this sentimental portrait of Lassie, featuring Roddy McDowall, Jan Clayton, Jon Provost, and Larry Wilcox. From the narration, you would think there had been no films except for Lassie Come Home. Also, much of the second half of the special features Lassie on charity tours, painting the dog as quite the humanitarian, rather than concentrating on the series or more of the movies. Still, the clips and comments are nice, we meet a young woman who did her master's thesis on the Lassie phenomenon, and there's a nice sequence showing Rudd Weatherwax directing Lassie through a piece of business involving a kitten.
Synopsis of To Lassie With Love:

"Once upon a time, there was a beautiful collie named Lassie who found her way into the hearts of millions of people all over the world."

The program opens with a dedication to "Lassie's loyalty and love" narrated by Bonita Granville Wrather. The attention then shifts to Lassie Come Home as the stepping-off point for the Lassie legend. Scenes shown are Edmund Gwenn as Rowlie Palmer saying goodbye to Lassie, one of Lassie swimming the stormy river, and finally the "come home" scene outside the school with Roddy McDowall as young Joe Carraclough.

The narration continues with Roddy McDowall on the MGM backlot, telling how much he enjoyed making the film and of the extraordinary "aura" the dog possessed. He then goes on to say that "during the hectic postwar years," Lassie was absent from the screen. (Oddly, none of the other movies are mentioned and the statement is unusual, since five of the seven MGM Lassie films were made during those "hectic postwar years.")

"In 1954," McDowall's narration finishes, "she returned." We then cut to the opening credits of the Jeff episodes and clips from the story "The Lion" (Jeff trying to tell Ellen about the lion and then the animal rampaging through the house). We next see Jan Clayton walking through the dismantled farm kitchen set, reminiscing (voiceovers from the show are played during this scene) and recollecting how much the cast enjoyed doing the show.

"But," Clayton adds, "just like your family and mine, our children change before our eyes. Little girls become women, little boys grow into men. And so the time came when another little boy needed the companionship and love of Lassie," and the narration segues into the scene of Jeff telling Lassie to stay with Timmy, melding into the opening credits of the Timmy episodes.

The first clip shown is the scene of Timmy using a lure to send meat to "Mrs. Eagle." It then dissolves into the scene from "The Journey" where Lassie leaps to join Timmy in the balloon basket. We see the balloon land in the trees.

The longest sequence of clips is from "The Odyssey." We see Lassie locked in the van, freed, and on her way home to Timmy. The entire scene with Timmy telling Ruth why he is cleaning out his closet and then Timmy starting to bury her toys and Lassie's return is then shown.

This dissolves to a short commentary by Jon Provost, who, at that time, was doing graduate work at college, and then back to Bonita Granville Wrather talking about the momentous decision to cast an adult as Lassie's co-star. This segues into the scene from "The Disappearance" where Lassie is caught at the edge of the avelanche and then must dig Corey Stuart and his partner out of the snow.

Next follows clips from the Corey Stuart episodes, including "Ride the Mountain" (the flume boat scene), "Rim of Disaster" (the sequence where the airplane "hooks" Lassie), "Lassie's Time of Peril" (Lassie jumping in the river despite Corey telling her to stay back), finally ending with "Lassie the Voyager." Part of the "Lassie the Voyager" ballad is played as we watch how Lassie was lost in the hurricane, and we see her finally, wearily trot into New Orleans, to be reunited with Corey at the wishing well.

There is no commentary from Robert Bray, but we see Lassie and Bray visiting hospitals, then a scene with Lassie feeding forest animals (perhaps from "Have You Any Wool?") and the scene of Lassie helping the injured owl in "The Protectors."

There is no mention of Bray leaving the series, the transition to Bob and Scott, or the season where she is on her own. The narration simply includes a scene from "The Sky is Falling" (a Neeka episode) with Lassie rescuing the chick on the railroad tracks, then goes directly into the scene from "Fury Falls" when Lassie is trying to save the coyote pup and must be rescued by Ron and Dale.

Ron, Dale, and Lassie are shown arriving by bus and Ron saying "Lassie, you're home." Larry Wilcox takes up the narration here, saying he watched the series as a child and how happy he was to be part of the show. A clip is shown with Pamelyn Ferdin and Ron Hayes talking about love from the story "A Time for Courage," and finally clips from "A Joyous Sound," with Lucy Baker mentioning all the wonderful things she would like to hear. A clip of Lassie fighting with a bobcat is also included and what looks like a scene from "Lightning" with Lassie rescuing Keith from the fire.

Roddy McDowall continues the narration briefly, talking about considering Lassie as a person, and of all the positive values of the series. He also comments that in 1973 Lassie herself received one million Christmas cards.

This leads into a sequence about college student Bren Paul, who did her master's thesis on the Lassie phenomenon. She says she was teased by classmates, but she found the concept of the character fascinating. We watch as Paul oversees the performance of a stunt: a kitten is stranded in a rowboat in the middle of a small pond and must be rescued by Lassie. The rowboat is put "to sea" with the kitten in it and Rudd Weatherwax goes out in a boat along with the camera crew. His assistant Sam holds Lassie. When they are ready, Rudd calls Lassie. The collie runs lakeside, jumps in, swims to the rowboat, and at Rudd's direction, picks up the rope dangling from the front of the rowboat. Bob Weatherwax then calls him in and the scene is successfully finished.

Paul says "Lassie is everything each of us would like to be. Through Lassie, over the years, people have reaffirmed good qualities in themselves. We love Lassie for the things we may lack. That look in Lassie's eye is a most convincing expression of truth, a communication of love. Lassie has a presence I dare anyone to try and ignore. She reaches out, for to her, no one remains a stranger."

The subsequent scene shows a real-life event, the Lassie crew bringing aid to needy people in a Navajo tribe, and then intercuts with a television scene, from "The Offering," Lassie giving her puppy to the little boy whose dog died. This segues into yet another real-life event, where Lassie appears at the annual Blessing of the Animals at Mission San Luis Rey, and finally, we see a crowd of children running calling "Lassie! Lassie!"

A scene from Lassie trotting about Williamsburg, Virginia, while the ballad of "Lassie the Voyager" plays, is next, then the program concludes with Bonita Granville Wrather's narration: "Once upon a time, there was a beautiful collie named Lassie, and, with Lassie, once upon a time is forever."
The Story of Lassie, 1994, PBS, 60 minutes (no commercials)

The unqualified best of any Lassie salutes I have seen, PBS producted this lovely documentary to celebrate Lassie's 40th year on TV. It's crammed tight with movie material and clips, items on most of the series (although the Jeff and Timmy episodes get the lion's share of the attention), and is narrated by June Lockhart with commentary by Roddy McDowall, Tommy Rettig, Jon Provost, Margaret O'Brien, Janet Leigh, and Robert Weatherwax. A must for any Lassie lover.
♦ This special has been available on videotape.

Lassie Unleashed, 1994, ABC, 60 minutes

This was ABC's 40th anniversary attempt, a more lighthearted look at the career of "America's Favorite Collie," "narrated" by Lassie's companion, Mel (a Jack Russell terrier—the same "Mel" that appeared in the Cinar series). Most of the show either had celebrity best wishes or talks about the Jeff and Timmy TV episodes; nary a ranger is seen in the bunch. This one's strictly for fun—June Lockhart has a great time telling the "ribs for the grange supper" tale ("The Big Cat")—if you can overlook the fact that they show the clip from that reprehensible Taxi episode Lassie guest starred on.

Videos and DVDs (Region 1)
DVDs:
Lassie Come-Home (alone, on a three-film collection with Son of Lassie and Courage of Lassie, and on a four-film collection with Son of Lassie, Courage of Lassie, and Hills of Home)
Son of Lassie (alone, on a three-film collection with Lassie Come-Home and Courage of Lassie, and on a four-film collection with Lassie Come-Home, Courage of Lassie, and Hills of Home)
Courage of Lassie (alone, on a three-film collection with Lassie Come-Home and Son of Lassie, and on a four-film collection with Lassie Come-Home, Son of Lassie, and Hills of Home)
Hills of Home (on a four film collection with Lassie Come-Home, Son of Lassie, and Courage of Lassie)
The Sun Comes Up
The Painted Hills (also marketed under the title Lassie's Adventure in the Gold Rush; also, see "Don't Be Fooled!" below)
Lassie's Great Adventure (a mediocre transfer from a really bad print)
Lassie (1994)
The Lassie Collection (see Videotapes below)
The Best of Jeff's Collie: Episodes "Inheritance" (first episode), "Lassie's Pups," and "Transition" (last Jeff/Ellen Miller show)
The Best of the Lassie Show: Episodes "The Rocking Chair," "Peace Patrol" (with Clayton Moore as the Lone Ranger), and "Lassie at the Grand Canyon"
Lassie's Birthday Surprise: Episodes "Gramps' Birthday," "Party Line" (Jenny's birthday), and "Homecoming" (first Holden Ranch episode; Mike's birthday)
Lassie's Christmas Stories: 1958 and 1960 "Christmas Story" and 1961 "Yochim's Christmas"
Lassie's Gift of Love: 2-parter "Lassie's Gift of Love" and the color ranger episode "The Greatest Gift"
Lassie: 50th Anniversary Collection

Details:
Episodes: "Inheritance," "The Lion," "Lassie's Pups," "The Journey" (Jeff episode, not to be confused with the five-parter Timmy episode), "The Runaway," "Transition," "The Camera," "Peace Patrol," "The New Refrigerator," "Space Invader" [sic] ("The Space Traveller"), "Lassie's Protégé," "The Odyssey" (three parts), "Lassie and the Eagle," "Lassie and the Tiger," "The Treasure" (two parts), "The Holocaust" (two parts), "For The Love of Lassie" (two parts), "Run To Nowhere" (two parts)
Extras: Lassie: GE "Imagination At Work" TV commercial, This is Your Life: Lassie episode clip hosted by Bob Hope, Dinah's Place interview with Lassie, Donna Reed Show clip guest starring, Lassie, 1982 Emmy Awards Show segment featuring Lassie as presenter, and a commemorative introduction booklet by Ace Collins, author of the quintessential Lassie biography, Lassie: A Dog's Life

Lassie: Flight of the Cougar (compilation movie from three episodes, "Cry of the Wild," "The Guardian," and "Starfire")

Lassie: A Mother's Love: "The Runt," "The Wrong Gift," and "Lassie's Wild Baby," plus the episode "The Well" from first season in color
Lassie (2005)
Cinema Club in the UK released several Lassie films and compilation films on DVD this spring. Unfortunately, unless you have a region-free or region-hacked DVD player, they will only be in Region 2. There are more details on Sharon Turner's UK and Australian Lassie video site, linked below, but a shortlist of the videos are as follows:
Released April 3, 2006 (reminder: Region 2 only)
• Lassie - Vol. 1 - Lassie's Great Adventure / "The Wayfarers"
• Lassie - Vol. 2 - "The Disappearance" / "Lassie Look Homeward"
• Lassie - Vol. 3 - "Flight Of The Cougar" (episodes "Cry of the Wild," "The Guardian," and "Starfire") / "Hanford's Point"
• Lassie - Vol. 4 - The Magic Of Lassie

Released May 1, 2006 (reminder: Region 2 only)
• Lassie - Vol. 5 - "Lassie the Voyager" / "Countdown" (episodes "The Lonely One," "The Searchers," and "Countdown")
• Lassie - Vol. 6 - "Neeka" (episodes "Last Frontier," "Eagle's Dynasty," "Day of the Wolf," and "Glacier Canyon") / "The Adventures Of Neeka" (episodes "Price of Wisdom," "Night of the Ghost," and "Time of Crisis")
• Lassie - Vol. 7 - "The Road Back" / "The Miracle"
• Lassie - Vol. 8 - "Well Of Love" / "Peace Is Our Profession"
• Lassie - Vol. 9 - "A Joyous Sound" / Lassie: The New Beginning
Don't Be Fooled!: Someone on e-Bay is selling a DVD called Lassie's Christmas Adventure or Lassie's Christmas Story. There is no photo of this DVD packaging or labeling ever shown. Due to the running time the seller attributes to the DVD, it sounds as if he/she is selling The Painted Hills under an alternate title (there is a Christmas scene in The Painted Hills)! Someone has recently confirmed to me that this is The Painted Hills.
---
Cinar's Lassie Series on DVD
The first season of the Lassie revival series with Corey Sevier as Timmy Cabot was available on DVD from Canada in Region 1 format, but is no longer being sold. You can perhaps find it on auction sites.
---
VIDEOTAPES:
The Lassie Collection: There are ten tapes of two episodes each (except for the tape with "Lassie's Odyssey"), the first two tapes featuring Jeff, the third Jeff with Timmy, and the remainder with Timmy, with the following stories on each:
"Inheritance" and "Lassie's Pups"
"The Lion" and "The Journey"
"The Runaway" and "Transition"
"Watch Dog" and "The Camera"
"The Mascot" and "The Space Traveler"
"Lassie and the Eagle" and "Lassie and the Tiger"
"The Odyssey" parts 1, 2 & 3
"The Treasure" parts 1 & 2
"Lassie's Gift of Love" parts 1 & 2
"Christmas Story" and "Yochim's Christmas"
Note: Several people complained to me about the quality of this Lassie video set. There are dropouts, gaps, and other problems. My own copy of "Lassie's Pups" had a background hum so loud that the episode was unwatchable. I had complaints that other episodes have this hum. Also, the first episode on each tape does not have the credits at the end of it. The tapes are also recorded at EP (SLP), which is very poor practice for professional tapes. If you have no Lassie episodes on tape or want to see them unbutchered by excessive commercial cuts, it's still a good buy, but caveat emptor on the possible quality.
Apparently the first ten episodes on this set are also available on DVD.
Second Lassie Video Set: This is a set of seven tapes, and has been seen online on e-Bay and other auction sites. Two tapes contain the compilation movie Lassie's Great Adventure; one a two-part Corey Stuart story ("Lassie and the Fugitive," which also features "Spike," a.k.a. Old Yeller); one containing two Timmy episodes, "Lassie to the Rescue" and "Lassie at the Grand Canyon"; one the theatrical film The Painted Hills; and the final two tapes contain the four-part Scott Turner story "The Road Back."
Movies: As far as I know, all the Lassie MGM movies (the first seven on the movie list) were once available on video. Lassie's Great Adventure and Lassie [Best Friends are Forever] are also available. The Magic of Lassie was once in video release, but I don't know if it is still available. The video status of Lassie: A New Beginning is unknown, although one source does say it was at one time available. All of the out-of-print films have been seen on e-Bay.
Animated: Episodes of Lassie's Rescue Rangers were once available on video but are no longer "in print." Copies can be found on e-Bay. A Region 2 DVD of five episodes is available on Amazon.co.uk.
Salutes: The Story of Lassie can be found on video at various auction sites.
Compilation "Movies":
Once Available (all seen on various auction/overstock sites):

Lassie: Well of Love, a movie comprised of the episodes "The Offering" and the two-part "Well of Love" (a.k.a. "For the Love of Lassie")
Flight of the Cougar (taken from the episodes "Cry of the Wild," "The Guardian," and "Starfire")
The Adventures of Neeka (taken from the episodes "Price of Wisdom," "Night of the Ghost," and "Time of Crisis")
The Miracle (taken from the episodes "Lassie's Interlude," "The Birth," "The Survival," and "The Miracle")
Peace is Our Profession (from the four-part episode)
A Joyous Sound (from the three-part episode)
There are other compilation movies, for instance, Lassie: Look Homeward (original broadcast title "Look Homeward, Lassie"), The Wayfarers, The Disappearance*, Countdown (comprising the episodes "The Lonely One," "The Searchers," and "Countdown"), and Neeka (comprising the episodes "Last Frontier," "Eagle's Dynasty," "Day of the Wolf," and "Glacier Canyon") which have been shown on Animal Planet and Nickelodeon, but I do not know if they have made the transition to video.
*"The Disappearance," as done as a movie, is actually odd since there were two versions shown on Nickelodeon. The two-hour version, also broadcast on Animal Planet, snips scenes from each part, but mostly parts 2 and 5, to wedge the story into a two-hour timeslot. There was also a 90-minute version shown at least once, which had some of the part 5 snow survival scenes restored (but part 3 was then gone entirely). The recently released Region 2 DVD of "The Disappearance" appears to contain the entire story.
Nickelodeon Tapes: When Nickelodeon was showing the Timmy and Lassie episodes, several compilation tapes were offered for sale. Two of them, I understand, are still in release:

Lassie: A Christmas Tail which combines 1960's "A Christmas Story" and 1961's "Yochim's Christmas"
Lassie Come Ho-Ho-Home which is both parts of "Lassie's Gift of Love"
These four episodes have also been combined in a video package I believe is called "A Lassie Christmas."
Others in the series (not known if they are still available, but they have been for auction on e-Bay):
Mother Knows Best ("The Wrong Gift" and "The New Refrigerator")
Extra-Sensory Pooch ("Swami" and "The Raffle")
To Fetch a Thief ("The Rocking Chair" and "Peace Patrol"—special appearance by the Lone Ranger and Silver)
Martians at the Martins ("The Man from Mars" and "Timmy and the Martians")
Lassie to the Rescue ("Lassie to the Rescue" and "Lassie at the Grand Canyon")
UK and Australian Lassie fans: Sharon Turner has made a video and DVD list expressly for you. There is also information on other collectibles.
DVDs from Other Than the United States/England/Australia:
If you understand German, French, or Japanese, or don't mind reading English subtitles, Lassie DVDs are available in these three countries and advertised on Amazon.com. I tried to link the URL result of the search I did on each site under the DVD tab, but unfortunately the links do not work. You can get the full list of each of these by doing so yourself.
France: Amazon.fr has several sets; they seem to be all Corey Stuart episodes.
Germany: Amazon.de has several sets; some are Corey Stuart episodes, but there are also two recent sets that are fifth and sixth season Timmy episodes.
Japan: Amazon.co.jp has Japanese versions of the American-release moves, but also sells a rarity, the anime "Meikin Rasshi," a.k.a. "Famous Dog Lassie," a 26-part serialized version of Lassie Come Home following Lassie's adventures from puppyhood with her young master (John instead of Joe in this version).

What's a region free DVD player?

DVDs in different parts of the world have different regions. The United States and Canada are Region 1, the United Kingdom and Germany are Region 2, Australia is Region 4, and so forth. You cannot play a Region 1 DVD on a Region 2 player sold in the UK and the same for others. This is to keep movie studios from losing revenue to DVD sales; for instance if a highly-touted film from the US appears on DVD before it appears in theatres in the UK, the studio and movie theatres will lose profits because possible attendees may buy the DVD and not see the film in a movie theatre. However, there are region-free DVD players sold online and in many countries so you can play DVDs from other countries which will not be produced in your own country (for instance, there is little chance that the old British comedy television series Doctor in the House will be released for US audiences, so a fan of the series might want to purchase the Region 2 version).

What is a region hackable DVD player?

Most manufacturers only make one type of DVD player, then set it to play a particular region when it is sold in that region's country. You can search online using the search string +"region hack" +DVD and find out if you can switch your particular DVD player to region free or another region. Some of these hacks require some electronic knowledge, but many hacks involve simply pressing a few buttons on the remote control in the proper order. A search will let you know which is possible for your machine.