LASSIE'S
RESCUE
RANGERS
 
EPISODE
 
GUIDE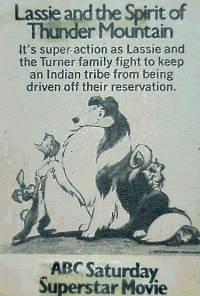 Regular Characters:
• Ben Turner (voice of Ted Knight) is the leader of the Rescue Rangers; either he or his wife fly Rescue 1, their helicopter
• Laura Turner (voice of Jane Webb), married to Ben and mother of Jackie, Susan, and Little Ben; she is a doctor and also regularly flies Rescue 1
• Jackie Turner (voice of Keith Sutherland), eldest of the Turner children
• Susan Turner (voice of Lane Scheimer), the Turners' only daughter
• Ben Turner Jr (voice of Keith Allen), the Turners' youngest son, who is blind
• Gene Fox (voice of Hal Harvey), their Native American friend and member of the Rescue Rangers
• Old Toothless (mountain lion)
• Edgar (crow)
• Groucho (owl)
• Fastback (turtle)
• Robbie (raccoon)
• Musty (skunk)
• and of course, Lassie
Big Cartoon Database's Lassie's Rescue Rangers web page
TV.com's Lassie's Rescue Rangers web site
Episodes:
"Lassie and the Spirit of Thunder Mountain"

One-hour pilot movie presented on the Saturday Superstar Movie. Unscrupulous contractor Aaron Lipton tries to frighten Chief Red Arrow and his Native American tribe away from their ancestral lands on Thunder Mountain, including using savage dogs to stalk the area, and enlists Congresswoman Fielding in his cause. The Turners and Gene Fox, with the help of Lassie, try to thwart the takeover. Note: In the pilot, the Turner family does not run a rescue organization; they simply own a ranch near Thunder Mountain. Gene Fox is a member of Chief Red Arrow's tribe. Some of the animals, including the elderly mountain lion Old Toothless, who help Lassie defeat the killer dogs, reappear as rescue animals in the subsequent series.
Lassie's Rescue Rangers the series premiered the following September. The Turners now run a rescue organization from their ranch (unlike in the series Thunderbirds, we don't learn where the Turners obtained the money to be able to run the organization or who funds them). Along with Lassie, all the animals, or at least Robbie the raccoon and a rabbit whose name is unknown, are trained to trail lost persons and otherwise help with the rescues; while Old Toothless gets the (forgive the pun) lion's share of the action, he's generally used as comic relief or used to scare people who don't know he's harmless.
The series was directed by Hal Sutherland, written by Chuck Menville and Len Janson, with background music by Yvette Blais and Jeff Michael and music and sound effects by Horta-Mahana Corporation, produced by Norm Prescott and Lou Scheimer for Filmation Associates.
"Lost" (09/08/73)

Harry and Martha Johnson panic when their son Dwayne, a city-bred boy, is lost on a camping trip. (The Johnson family are African-American and speak in this odd combination of Southern accent and 70s slang, especially Dwayne. The "70s rap" sounds pretty funny today.)

"The Animals are Missing" (09/15/73)

Strange earth tremors send the Rescue Rangers to a valley that isn't as deserted as it seems. A native of the area, Bill Bear, tries to help them.

"The Mystic Monster" (09/22/73)

Susan, Little Ben, and Lassie pursue a mysterious "comet" that contains a luminescent white form that they believe may be an alien life form. (It turns out to be a cosmonaut whose space capsule crashed in the woods.)

"Lassie's Special Assignment" (09/29/73)

Ben Turner receives a mysterious package containing a tape recorder—shades of Mission: Impossible!—with instructions to rescue a scientist (Dr. Simpson) from enemy agents. (You can find this on YouTube in a foreign language version and it's very humorous to watch; Lassie and the animals are parachuted into a foreign country to rescue him—Ben even shows a photograph of Dr. Simpson to Lassie, as if she can recognize him from the photo!)

"The Impostors" (10/06/73)

In the midst of a rescue demonstration at a high school, the Turners are confronted by police and put under arrest for robbery; it turns out a group of people are pretending to be the Rescue Rangers for their own personal gain.

"Deadly Cargo" (10/13/73)

Two drug smugglers kidnap the rescue animals in order to retrieve a lost package of heroin worth two million dollars.

"Grizzly" (10/20/73)

A tame grizzly bear named King, recently released to the wild, complicates the Rescue Rangers' problems with a menacing forest fire advancing on the city. The Turners hope they and Sergeant Kelley can turn the tide.

"Deepsea Disaster" (10/27/73)

Underwater scientist J.W. Smithers, rejected by the Navy, thwarts plans made for Lassie, Jackie, Susan, Gene Fox, and two of the other rescue animals to live in a new Aqualung for several days.

"Black Out" (11/03/73)

The overburdened police call on the Rescue Rangers after a power blackout puts a trucker and a young boy in danger, and a looter takes advantage of the situation.

"Arctic Adventure" (11/10/73)

In Alaska, the Rescue Rangers must find the downed airplane of two firefighters, Larry and Frank, desperately needed to put out ignited gas at a well site near the town of Bear Claw. When a blizzard develops the Turners must seek help from Aleutian named Nandi.

"The Sunken Galleon" (11/17/73)

While searching for a missing diver, the Rescue Rangers find a sunken Spanish galleon—and an enemy submarine.

"Gold Mine" (11/24/73)

Gene Fox is taken hostage by Betty and Jason, two criminals who, after being rescued by the Turners, proceed on their mission to rob Fort Knox.

"Rodeo" (12/01/73)

The kids are eager to participate in a rodeo owned by Ben's friend Jerry Carr, but a series of mysterious accidents threatens to cancel the event. It looks like someone's out to get Jerry.

"Hullabaloo in Hollywood" (12/08/73)

While in Hollywood filming a movie, the Rescue Rangers run into trouble.

"Tidal Wave" (12/15/73)

The Rescue Rangers' weekend in Florida is interrupted when a distant earthquake sparks the threat of a tidal wave on the crowded beaches.
     Thanks to Dave Koch of the Big Cartoon Database for the titles and the original airdates!
Watch "Arctic Adventure" online (in Italian).
"Lassie's Special Assignment" in...Portuguese, perhaps? Part 1 Part 2
This appears to be a Swedish video review of Lassie's Rescue Rangers, referring to other animation as well. There are scenes in it from the "long lost" Lassie and the Spirit of Thunder Mountain.
A few screencaps from Lassie's Rescue Rangers: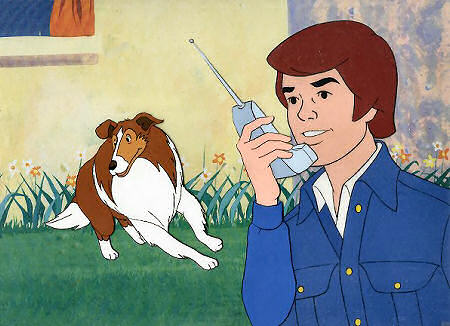 Lassie and Jackie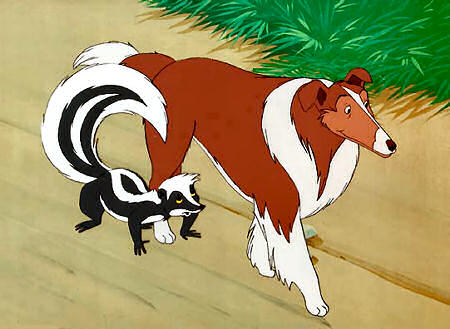 Lassie and Musty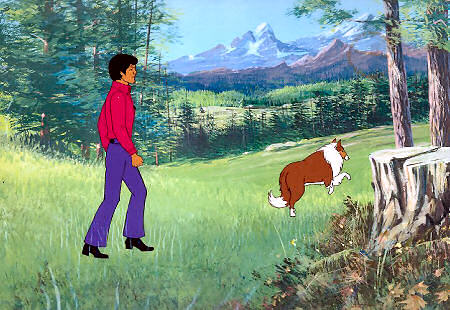 Lassie and Gene Fox, with Thunder Mountain in the background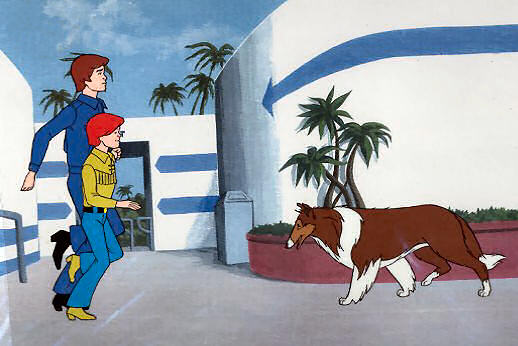 Jackie and Little Ben, with Lassie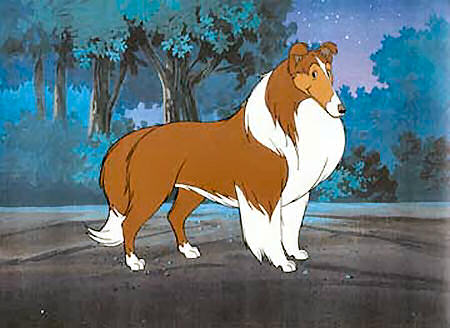 Our hero!